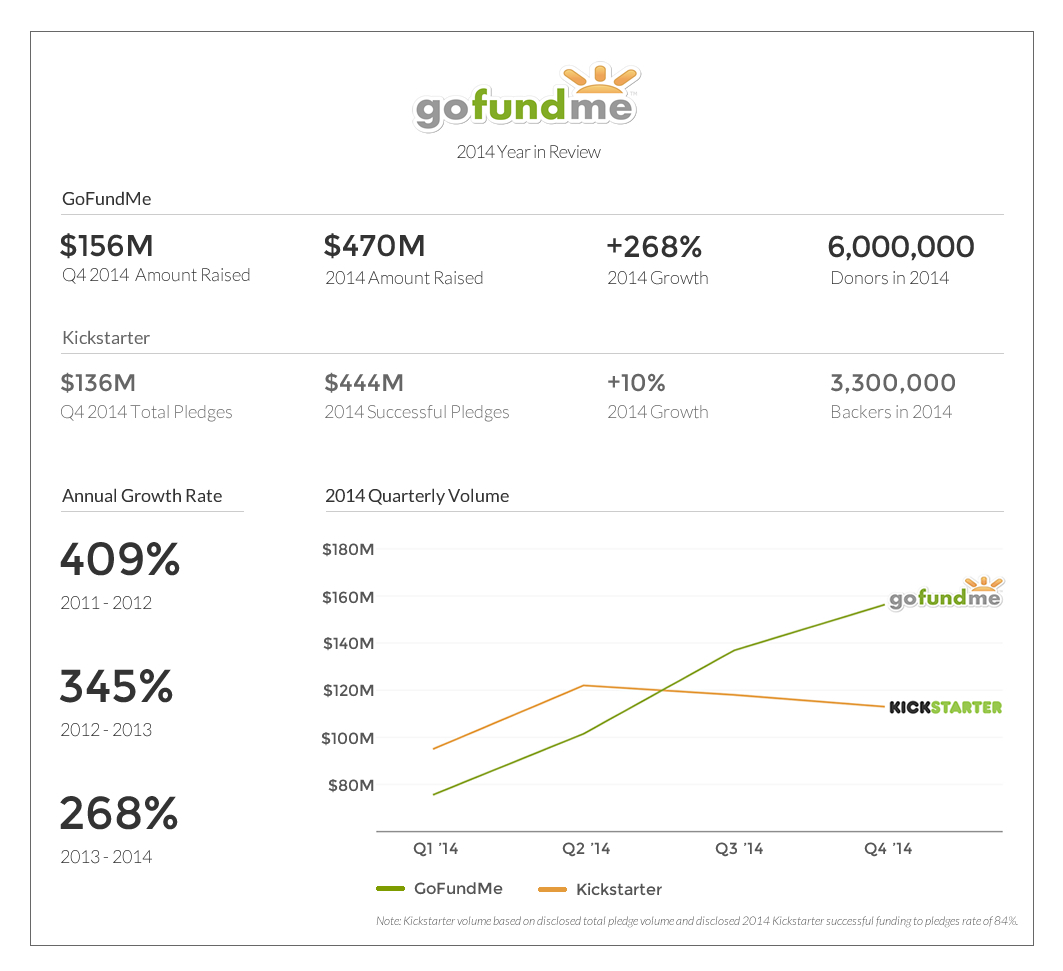 GoFundMe has announced that in the fourth quarter of 2014, over $156M was raised on their trusted, easy-to-use fundraising platform. This record-breaking quarter brings the total funds raised by GoFundMe in 2014 to $470M, making the company the world's largest crowdfunding platform. Kickstarter, who formerly held the #1 spot, had a pledge volume of $136M in the fourth quarter, and finished 2014 with $444M in successful pledges.
While Kickstarter helped popularize crowdfunding in the areas of creative projects, music and film, GoFundMe's personal fundraising platform is focused on enabling people to raise money for personal causes and life events. "It's incredible to see all the amazing ways people are using GoFundMe to make a difference in the lives of others," says co-founder Brad Damphousse. "We feel very fortunate to have a front row seat to an ever-increasing number of uplifting, inspiring, and successful fundraising campaigns."
The site's most popular categories are Medical, Education, Emergencies, Volunteerism, Memorials, and Sports. Due to the personal nature of these types of campaigns, the majority of giving on GoFundMe occurs between family and friends. GoFundMe is rapidly replacing traditional fundraising methods while making it easy for people to support those they love during life's most important moments.
Launched in 2010, GoFundMe has remained an extremely lean organization, having raised no outside capital and employing a dedicated team of less than 40 people. However, having a small roster has not prevented GoFundMe from running a very large business. The company boasts over $650M raised on the platform since its inception, along with an unprecedented customer support email reply time of 5-minutes-or-less.
"GoFundMe's intense focus on exceptional customer experiences is what sets us apart," Damphousse continues. "Our competitors have taken tens of millions of dollars in venture capital and employ hundreds of employees. We have stayed small, focused, and committed to serving our customers better than anyone else."
GoFundMe's annual donation volume grew a staggering 268% in 2014 and the company expects volume to continue increasing as market awareness rises, and crowdfunding becomes more widely accepted. "We have seen our business grow approximately 300% per year every year since we started GoFundMe and it is a testament to the power of crowdfunding. What matters are the causes that people are raising money for; these are deeply personal life events that resonate with donors. It revolves around the stories we tell, the lives we share, and the communities we try to build. Given all of this, we believe that the future of GoFundMe is boundless."